Product Description
The whole of the product is made of stainless steel. Therefore it can be used hygienically. This 3 - pronged ice pick is born from the idea of Mr. Hidetsugu Ueno ( who is the owner of BAR HIGH FIVE ). This item is our (BAR TIMES STORE) original product.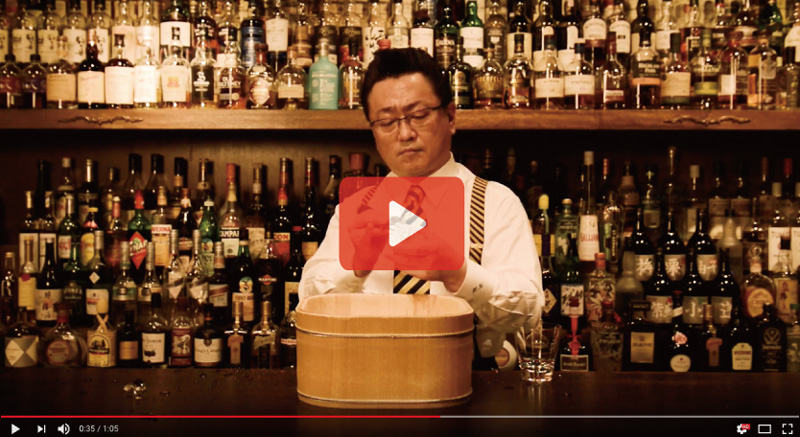 Additional information
| | |
| --- | --- |
| Brand | BAR TIMES |
| Name | BAR TIMES Original All Stainless 3-pronged ice pick produced by BAR HIGH FIVE [471] |
| Size | L175mm, W47mm / Pick : 40mm |
| Weight | 150g |
| Material | stainless steel |
| Color | Others |
| Made in | Japan |
Reviews
Tags
Shipping Fee
About shipping fee
We ship via EMS and the shipping fee varies depending on the actual package weight and the destination country (shipping address).
You can check the actually shipping fee by putting the items you want to purchase in the cart, opening the "Shopping cart" page and pressing the "ESTIMATE SHIPPING" button.
Reference
Because we really calculate the shipping fee at the weight that increased the weight of packing materials, the price of this table are reference price.
(Please note that there will be the weight of external package and other packing materials to be added to product's weight. Therefore, there is a possibility that the actual shipping fee gets 1-3 brackets higher than the price you might expect. )
Weight
Rep. of Korea
Taiwan
and China
Asia
(Excluding China, Rep. of Korea,Taiwan)
Oceania
Canada
Mexico
and the Middle East
U.S.A.
Central America
South America
and Africa
1 - 300g
1,600 JPY
2,150 JPY
3,400 JPY
4,180 JPY
3,900 JPY
301 - 500g
1,900 JPY
2,650 JPY
3,650 JPY
4,460 JPY
4,500 JPY
501 - 600g
2,050 JPY
2,900 JPY
3,900 JPY
4,740 JPY
4,800 JPY
601 - 700g
2,200 JPY
3,150 JPY
4,150 JPY
5,020 JPY
5,100 JPY
701 - 800g
2,500 JPY
3,500 JPY
4,400 JPY
5,300 JPY
5,850 JPY
801 - 900g
2,800 JPY
3,850 JPY
5,000 JPY
5,990 JPY
6,600 JPY
901 - 1,000g
2,800 JPY
3,850 JPY
5,550 JPY
6,600 JPY
6,600 JPY
1,001 - 1,250g
3,100 JPY
4,200 JPY
6,150 JPY
7,290 JPY
7,350 JPY
1,251 - 1,500g
3,400 JPY
4,550 JPY
6,700 JPY
7,900 JPY
8,100 JPY
1,501 - 1,750g
3,900 JPY
5,150 JPY
7,750 JPY
9,100 JPY
9,600 JPY
1,751 - 2,000g
4,400 JPY
5,750 JPY
8,800 JPY
10,300 JPY
11,100 JPY
2,001 - 2,500g
4,900 JPY
6,350 JPY
9,850 JPY
11,500 JPY
12,600 JPY
2,501 - 3,000g
5,400 JPY
6,950 JPY
10,900 JPY
12,700 JPY
14,100 JPY
3,001 - 3,500g
5,900 JPY
7,550 JPY
11,950 JPY
13,900 JPY
15,600 JPY
3,501 - 4,000g
6,400 JPY
8,150 JPY
13,000 JPY
15,100 JPY
17,100 JPY
4,001 - 4,500g
6,900 JPY
8,750 JPY
14,050 JPY
16,300 JPY
18,600 JPY
4,501 - 5,000g
7,400 JPY
9,350 JPY
15,100 JPY
17,500 JPY
20,100 JPY
5,001 - 5,500g
8,200 JPY
10,350 JPY
17,200 JPY
19,900 JPY
22,500 JPY
5,501 - 6,000g
9,000 JPY
11,350 JPY
19,300 JPY
22,300 JPY
24,900 JPY
6,001 - 7,000g
9,800 JPY
12,350 JPY
21,400 JPY
24,700 JPY
27,300 JPY
7,001 - 8,000g
10,600 JPY
13,350 JPY
23,500 JPY
27,100 JPY
29,700 JPY
8,001 - 9,000g
11,400 JPY
14,350 JPY
25,600 JPY
29,500 JPY
32,100 JPY
9,001 - 10,000g
12,200 JPY
15,350 JPY
27,700 JPY
31,900 JPY
34,500 JPY
10,001 - 11,000g
13,000 JPY
16,350 JPY
29,800 JPY
34,300 JPY
36,900 JPY
11,001 - 12,000g
13,800 JPY
17,350 JPY
31,900 JPY
36,700 JPY
39,300 JPY
12,001 - 13,000g
14,600 JPY
18,350 JPY
34,000 JPY
39,100 JPY
41,700 JPY
13,001 - 14,000g
15,400 JPY
19,350 JPY
36,100 JPY
41,500 JPY
44,100 JPY
14,001 - 15,000g
16,200 JPY
20,350 JPY
38,200 JPY
43,900 JPY
46,500 JPY
15,001 - 16,000g
17,800 JPY
22,350 JPY
40,300 JPY
46,300 JPY
51,300 JPY
16,001 - 17,000g
18,600 JPY
23,350 JPY
42,400 JPY
48,700 JPY
53,700 JPY
17,001 - 18,000g
19,400 JPY
24,350 JPY
44,500 JPY
51,100 JPY
56,100 JPY
18,001 - 19,000g
20,200 JPY
25,350 JPY
46,600 JPY
53,500 JPY
58,500 JPY
19,001 - 20,000g
21,000 JPY
26,350 JPY
48,700 JPY
55,900 JPY
60,900 JPY